Top 10 Greatest Wrestlers Turn Actors
January 9, 2017
Professional wrestling is as much a performance as it is a sport. For every mind-blowing physical stunt pulled off in the ring, there is just as much posing, posturing, and playing up a carefully crafted persona in front of thousands of people (millions if you count the TV broadcasts). On Hogan Knows Best, a reality show about the family of Hulk Hogan, the Hulkster's son wanted to follow in dad's footsteps and the first piece of advice the elder statesman of the squared circle imparted was that the boy should take an improve acting class.
It feels very natural that many wrestlers would try their hand at making movies, especially action-heavy ones, and over the years (especially with the WWE getting heavily into the production game), many have tried to make the transition, with wildly mixed results. Some churn out B-grade, direct-to-video ass-kickers, while a relative few are able to full make the leap and transition in the public eye from tights and spangles wearing beefcakes to legitimate movie stars.
10. Bill Goldberg
A former professional football player, Bill Goldberg rocketed to superstardom in the WCW, where he quickly became the heavyweight champion—he would also later become the heavyweight champ of the WWE. After burning bright for a short time, he moved on, becoming a commentator for a number of mixed martial arts promotions, and, most notably, carving out a career acting in action movies. Playing tough guys and goons in films like Universal Soldier: The Return and Half Past Dead 2, he also played an evil Santa in Santa's Slay. Even on his extensive TV resume, which features a lot of similar "big scary dude" one-offs, as well as hosting generally dude-centric shows about cars and motorcycles, he never really moved beyond being typecast, though for fans of a certain specific subgenre of action movie, he left an impression.
9. Kevin Nash
After participating in nearly every major promotion over the years, Kevin Nash is truly a wrestling legend. His acting career kicked off like so many others trying to make the jump from the ring to the silver screen, by playing giant tough guys. To be honest, he's never really strayed too far from this niche, but he's done it in movies that you might not necessarily expect. Sure, he's played thugs and goons in movies like 2004's The Punisher, and under layers of make up in the likes of Monster Brawl, but he's also shown up in out of left field places, like the film adaptation of a Broadway musical (Rock of Ages), or as a male stripper in Magic Mike and the sequal Magic Mike XXL. You get the sense that he's down for whatever and up for appearing in movies that aren't exactly what you anticipate from a former wrestler.
8. Steve Austin
"Stone Cold" Steve Austin won legions of fans for his scowling rough-edged redneck act in the ring, which often saw him pounding multiple beers at once, flipping the bird, and driving over things with his big-ass pickup truck. He channeled that gruff, no nonsense persona into a prolific career leading action movies.  Living in the world we inhabit, that type of action has largely been relegated to the DTV realm, but Stone Cold has carved out his own niche in movies like Damaged, Hunt to Kill, and The Condemned. He was also part of the crew in the first Expendables and even co-starred with fellow DTV all-star Steven Seagal in Maximum Conviction. Austin also has a side gig hosting a reality competition series called Steve Austin's Broken Skull Challenge. 
7. John Cena
John Cena's acting career fits in the same general arena as Stone Cold's, as he's most known for fronting straight forward action vehicles like The Marine and 12 rounds. There is, however, a little more variety, as Cena's more personable, less brusque persona makes him a little more appealing to a wider audience. This has led to fun roles on TV shows like NBC sitcom Parks and Recreation, A major roll in the movie Trainwreck, and USA's psychic detective comedy Psych. He also shows up from time to time in the younger skewing Fred movies as the imaginary muscle-bound father of the title character, a nerdy, hyperactive teen.
6. Dave Bautista 
Dave actually in the process of climbing this countdown in short order. Starting off with small villain roles in movies like The Scorpion King 3, minor parts on episodes of TV, including Smallville, and fronting low-budget, direct-to-video style exploitation films like Wrong Side of Town, like many of his compatriots, Bautista is crossing over into much more mainstream roles. He's a big part of Marvel's blockbuster Guardians of the Galaxy, where he plays the literal-minded Drax the Destroyer, and is lined up to appear in more for the superhero studio. Moving forward, he's been linked to play the Kurgan in the Highlander remake, and we'll see him later this year as a Bond villain in the upcoming Spectre.
5. Andre the Giant
Standing 7'4″ and tipping the scales at more than a quarter ton, André René Roussimoff certainly lived up to the moniker André the Giant. One of the greatest wrestlers of all time, Andre didn't have the most extensive acting career, but it left an indelible mark. His most well-known, beloved role is easily that of Fezzick the kind-hearted giant and reluctant ass-kicker who helps the heroic Wesley rescue his beloved Buttercup in The Princess Bride.
4. Roddy Piper
Kilt-wearing heel "Rowdy" Roddy Piper was one of the most popular wrestlers of the 1980s for his antagonistic antics and epic matches—he was also one of the bad guys in the Saturday morning cartoon Hulk Hogan's Rock 'n' Wrestling. While he never attained mainstream success, Piper put together a resume of low-budget horror, sci-fi, and action movies that is still growing today. In this sphere, he's most remembered for his turn as the out-of-work drifter Nada who battles undercover aliens in John Carpenter's cult classic They Live. You may recall that he came here to kick ass and chew bubblegum, and he's all out of bubblegum.
3. Jesse Ventura
Not only is Jesse "The Body" Ventura a former professional wrestler, actor, and conspiracy theorist (he hosted a show called Conspiracy Theory with Jesse Ventura), he was also the governor or Minnesota. Like many of his fellows, his best-known film roles fit into the action genre. In 1987 he co-starred with fellow future governor Arnold Schwarzenegger in both Predator, his first part—where he taught a generation of young men that chewing tobacco will make you a goddamned sexual tyrannosaurus, just like him—and the dystopian game show actioner The Running Man. He also teamed up with Sylvester Stallone, playing an unfrozen future criminal in Demolition Man. In recent days, he's taken to hosting his political series Off the Grid, though in 2012 he did have a guest spot on Nickelodeon's Teenage Mutant Ninja Turtlescartoon.
2. Hulk Hogan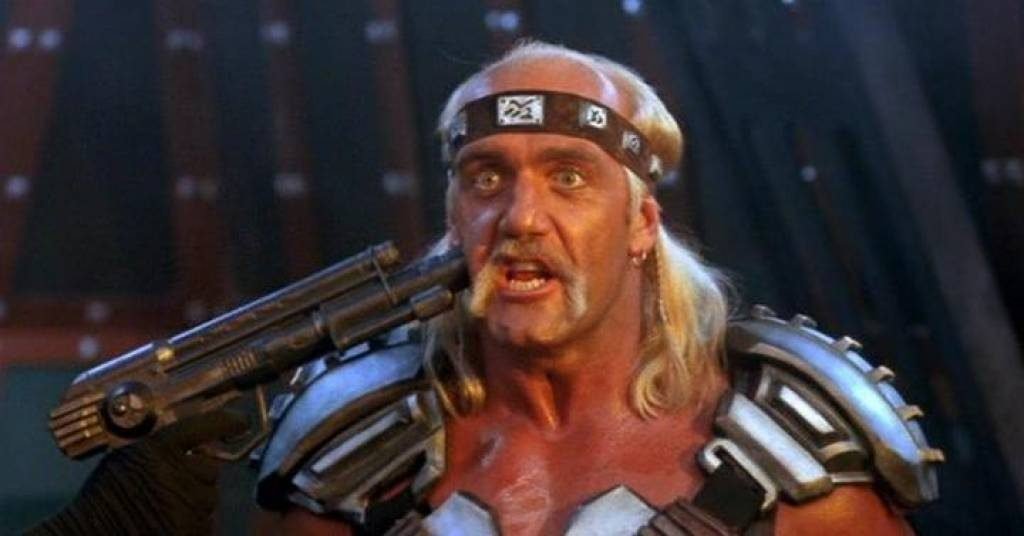 Perhaps the most popular professional wrestler ever, Hulk Hogan rode a massive wave of popularity in the 1980s that extended far beyond the ring. He had endorsement deals, toy lines, a Saturday morning cartoon, and, of course, an expansive acting career. Starting as the awesomely named Thunderlips in Rocky 3, Hogan guested on The Love Boat, appeared in the wrestling-themed No Holds Barred, and then turned to family fare like Suburban Commando and Mr. Nanny. He battled the 3 Ninjas, fronted the action series Thunder in Paradise that was basically Knight Rider on a boat, and even cameoed in Muppets from Space. He's one of the most recognizable faces out there, which obviously let to his very own reality show in the mid-2000s, Hogan Knows Best, where he dispensed his vast wisdom to family and friends alike, brother.
1. The Rock
This one is a no brainer. No professional wrestler has achieved as much success in acting as Dwayne "The Rock" Johnson. "The People's Champion," a former collegiate football player, proved to be one of the most charismatic wrestlers ever and parlayed that popularity and charm into a meteoric rise on the silver screen. After a few TV spots, notably on Star Trek: Voyager, his first major role was in The Scorpion King, and he wasn't particularly great at the acting. Which is why it's been even more surprising to watch him evolve over the past decade-plus to become, not just a leading man or "Franchise Viagra," but a legitimate star. Sure, he shines brightest in big action spectacles like the Fast & Furious movies, but he's done everything from silly kid's movies, including wearing a tutu and wings in The Tooth Fairy, to more dramatic roles, like in Snitch, which, while maybe not a great movie, is probably his most nuanced performance to date, one where he totally plays against type. Willing to take risks and have fun, he's only getting bigger, with an HBO series on the way, San Andreas later this week, and a superhero turn in Shazam in the works. We can all smell what he's cookin'.
McKnight, Brent. "The 10 Greatest Wrestlers Turned Actors." CINEMABLEND. N.p., 26 May 2015. Web. 09 Jan. 2017.